The ex-climber and author of Touching the Void on the stage version of his story, his reaction to seeing Free Solo and what he does for fun these days
In 1985, 25-year-old Joe Simpson and another British climber, Simon Yates, 21, were climbing the west face of Siula Grande in the Peruvian Andes when Simpson fell and badly broke his leg. Further down their descent, Yates was forced to abandon Simpson on the mountainside. Simpson's book about his improbable survival, Touching the Void, has sold more than 1m copies and in 2003 became a Bafta-winning film. (In the process, Simpson became a hero and Yates an arch villain – both of which notions Simpson strongly rejects.) Now the events have also inspired a play, which opened at the Bristol Old Vic last year and this month transfers to London's West End. Simpson, 59, lives in the Peak District, and is the author of eight books.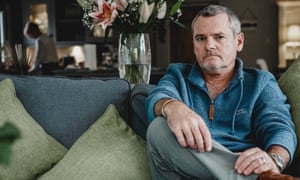 What's been your involvement in Touching the Void, the play?
Well, my first reaction was: "Good luck! How the hell are you going to stage that?" Then [writer] David Greig and [director] Tom Morris came up to see me and I made it clear that I didn't want any involvement in the writing or the creation of the work. So if it succeeded, it was their success, and if it failed, it was their failure. A coward's way out! Then I sat back and watched these five-star reviews coming in and thought: "Bloody hell, here we go again…" It's strange. In fact, it's more than a bit strange. What next? A bloody musical?
Are you able to judge it as a piece of entertainment?
In short, no. I'm really the worst person to ask for an opinion of a version of Touching the Void. But the play tries, I think, to delve deeper into the nature of mountaineering and individuals putting their life at risk for something they love, and possibly paying a heavy price.
Why does this story, 35 years on, continue to captivate people?
I was reading somewhere there's a notion that's very embedded in our cultural history called the myth of the returning warrior. It's in the sagas of Beowulf, everything from Robert the Bruce, even Jesus Christ: of somebody going away to a very dark, scary place, often death or into Hades, and coming back. Of course, I might just be talking out my arse, because I've been asked this question so many times, but I've always thought it's more than just an adventure story.
Did you see Free Solo, the Oscar-winning documentary film about Alex Honnold's attempt to climb El Capitan in Yosemite without ropes?
Holy shit, I couldn't watch it! I did, but crikey, that just scared the crap out of me.
Honnold tells his girlfriend he has no obligation to stay safe for her. Did you recognise that single-mindedness?
Yeah, to a degree. Alex Honnold is an exception on various levels, but I was always struck by how selfish serious mountaineering is: you might love it, you might get killed and you have accepted that risk, but it's your loved ones that pay. To do something like that, you have to be a little bit unhinged. That's not an insult. I think all top sportsmen are mad as a bag of ferrets, frankly; they are doing things to an obsessional level that many people would regard as quite unhealthy.